19 Nov 2016
AT UDINE BACK TO GOAL LORENZO INSIGNE, NAPOLI WINS AND CONVINCE THE ARENA DACIA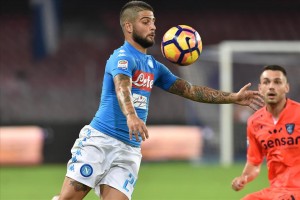 It starts from Udinese: Napoli wants victory at all costs, Udinese will play against the Blues the game of life. To 3 'already the first corner kick for Napoli; 7 'Hamsik tries to serve Mertens but the ball is intercepted. Matos then test for Udinese: it's fast but the defense of Naples and Reina have no problems. Then again with Napoli Insigne-Callejon action.
At 13 'you see Duvan Zapata, on loan from Napoli to Udinese, coming into the area but loses the duel with Koulibaly.
18 Napoli runs a bad risk with goals from former action Duvan Zapata: very good but Reina denies him the goal.
At 21 'is the Napoli that was going to go in goal with Loreno Insigne, fasting for too long. But the second half started with a beautiful goal by Lorenzo Insigne that after a few seconds also takes the crossbar. It unlocks Napoli, unlocks Insigne. Spend a few minutes and Lorenzo Insigne scored again, 2-0. Then he eats a goal done. Meanwhile, Udinese pulled one back. The game is reopened, Diawara missed the post. Napoli continues to try again. Log Zieliknski for Hamsik veteran influence and shortly after Giaccherini for Lorenzo Insigne, star of the big action partita.Alla half hour of consistently great greek Mertens but the Udinese goalkeeper the door as well as makes a few minutes later. A5 minutes from the great end-Giaccherini Mertens action which is replaced by El Kaddouri that is immediately seen. 90 'Zielinski recovers the ball and throws El Kaddouri: a great game. Napoli won for the first time in nine years and gives the idea of ​​being strong but still did not realized.