13 Sep 2017
CHAMPIONS: LIGHTING A NORTH BRUSHED NAPLES LISTED IN UKRAINE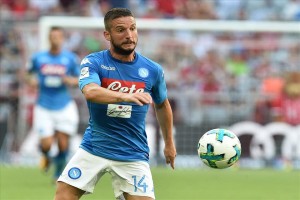 Inadequate transfer to the Sarri of Naples. The Shaktar is a team that already has all its players in excellent physical condition, makes good football and above all has good defense and a dangerous attack.
The match in the first minutes makes the Shaktar going online 15 minutes with Taison. A shot from outside, Reina can not do anything. At 20 minutes Reina saved the door with a great parade always on Taison thrown into the net. Napoli struggles to take over the game. The Ukrainians play well. Sarri on the bench is furious. He asks his men to organize my game, never throw the balls and attack.
Very difficult match for Napoli who can not get into the game. Napoli without Mertens does not have a good high pressure, is not afraid of defense and is often in defiance of defense. The only goal scored by 44 minutes in the Azzurri with Insigne testing his shot from the left side that the goalkeeper intercepted.
Second time begins with Napoli always in distress with the Shaktar who is playing for reparation.
At 58 minutes after Shaktar's goal. Sarri enters Mertens in place of Hamsik. 70 minutes into the game, Mertens earns a penalty kick. He pulls Milik. It is 2 – 1 at the break. The game is restarted. Mertens made the difference again. There is time to recover the game.
Napoli attacks but Shaktar defends well. At 86 minutes great Shaktar goalkeeper's parade on Callejon's shot.