23 Sep 2017
NAPLES WIN THE CONSECUTIVE SUNDAY AGAINST SPAL WITH INSIGNE, CALLEJON AND GHOULAM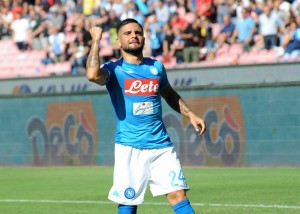 Napoli must be a first-team, especially with a small as Spal, which begins with a good start but then touches the blue to play the ball. First with Mertens, then with Hamsik, then again with the little Belgian goblin confirming to be in a state of grace.
Sarri made a bit of turn over: Maksimovic in place of Albiol, midfield out Jorginho and Allan to make room for Diawara and Zielinski.
At 13 'everything changes nothing to change anything Schiattarella catches unprepared Pepe Reina and takes advantage of Spal, immediately after the great action of the blue strikers and amazing goal of Lorenzo Insigne. 1-1
Sarri's boys continue to attack but Spal resists: Insigne and Mertens are still feeling.
In the resumption the music does not change even though Napoli does not seem to be incisive. Al 61 leaves Hamsik and enters Allan.
Then Sarri decides to make the team even more offensive and enters Milik instead of Zielinski. And just a Ghoulam action launches Callejon. 2 to 1 for Napoli. Mertens immediately after touching the goal again. Then "Ciro" comes out and Rog comes in and commits a foul. And Spal scores on punishment with Viviani. Allan tries to resume the game but Gomis para in two laps.
It is up to Ghoulam with an action to bring the blue back to him.
In the last knock I hurt Milik and comes out of the field: Polish has tears in the eyes we hope is nothing serious. The referee gives 5 minutes of recovery. Napoli wins the sixth consecutive game.