23 Nov 2016
CHAMPIONS: THE NAPLES ARRESTED IN HOUSE BY DYNAMO, EVERYTHING TO PLAY WITH BENFICA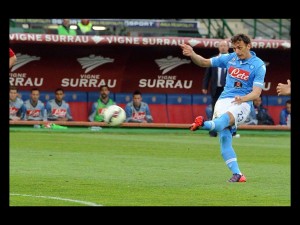 The scream of Champions, the cry of St. Paul knows he has to stay close to his Napoli encounter with Dynamo Kiev because the result of the other game of the round Cup, Besiktas- Benfica was a draw, a result for Napoli is not much. The Azzurri need of victory. But Dynamo is there and wants to try is the last of the group and has hopes of making the Europa League with only a useful result. Napoli collects corners and wasted opportunities. The most strong-willed is always Mertens, the Belgian does not save as indeed Callejon, tireless and irreplaceable. Napoli has recovered Albion and in midfield terraced youngsters Zielinski and Diawara, in Jorginho bench and Allan.
17 'once again Rudko, the Ukrainian goalkeeper on Mertens escaped the strict control of the defenders.
After a minute foul on Hysaj, his foot hammer: yellow for Sydorchuk, there could be even red.
At 23 'Mertens wonderful ball for Insigne but he nutmegged the keeper slips and misses the opportunity. Until the end of the first half Napoli tries to pierce the defense of Dinamo Kiev but he failed.
In the second half the script does not change but Napoli can not get a shot. Dinamo did not manage to get out of his area: Hamsik and Mertens with Insigne, Callejon and Ghoulam continue to grind actions to goals without scoring.
65 'yet another great chance, this time the shot is Marek Hamsik but the goalkeeper saves and it's the umpteenth corner kick of the match. Manolo Gabbiadini enters instead of Lorenzo Insigne. We test Gabbiadini with a free kick, then with a blow.
At 73 'is a shot that ends just wide. Tries again soon after and this time it Rudko to oppose.
Dinamo is done under and try to worry the Napoli then Dries Mertens first recovers the ball, makes a great action and pulls right but can not score. Enter Allan instead of Zielinski. Another corner for Napoli, everyone to jump. Still a corner manners in fact too high stroke Coulibaly head. The Azzurri are likely when a Dynamo shot blocked by Reina slips through the hands of goalkeeper: just a thrill. Five minutes from the end of another change: Mertens goes out and enters Giaccherini. Dinamo but Koulibaly shooting the ball a few seconds left tries again. A draw for Napoli and the Champions group is all uphill.