21 Nov 2017
CHAMPIONS, THE NAPLES DEFEATED SHAKHTAR AND SIGHTS IN MANCHESTER CITY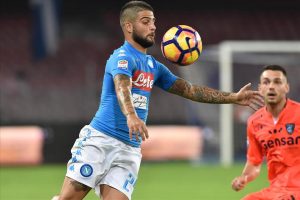 Serious attempt for Sarri's blue forced to win against Shakhtar Donetsk hoping to stay in the Champions League. A game that complicated the absence of Koulibaly (disqualified) for physical conditions not in the top of Lorenzo Insigne and Dries Mertens. From the first moments Chiriches has a problem with the usual shoulder but remains in the field. Field training against the Ukrainian side's players sees May midfield right and Hysaj moved to the right, Albiol and Chiriches in front of Reina. In the midfield there are Zielinski, Diawara and Marek Hamsik. Unchanged the laughing with Callejon, Insigne and Mertens. Napoli has numerous occasions, obviously goes to attack but Shakhtar confirms team tough, with good start. They try Mertens, Insigne, Callejon. However, Fonseca's players are fast and strong, and they have committed Reina several times.
In the resumption that of Naples is a door to the Ukrainian door, a siege that eventually with a series of maneuvers leads to an anthology goal by Lorenzo Insigne.
At 68 'great idea of ​​Mertens coming out from behind the goalkeeper passes to Zielinski who is empty at front high. Sin! As a result, he is already replaced by Allan. It takes a few minutes and the blues continue to besiege the Ukrainian door and carry out a kick-action action between the applause of the fans of San Paolo.Excellent Hamsik applause and Rog. And the goal matures at 80 'a high-class exchange of Mertens with Zielinski and the Polish marks the 2-0 net. But Napoli is unleashed and is on Albiol's header, marking Dries Mertens. A bad foul on Callejon blows a bit nerves to everyone, especially to the referee who even warns Rina that he had come out to ask for news. Meanwhile, Mario Rui joins the 3-0 and comes out of Zielinski.