22 Dec 2014
GREAT NAPOLI: WINS THE SUPER CUP IN DOHA BEATING A GREAT JUVENTUS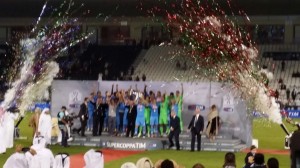 Super Cup ends at Naples: the bulletin board after the victory of the '90s, the years of Maradona. It's over to the rigors, 8 to 7. A successfully signed Rafa Benitez with goals from Gonzalo Higuain, parades of Rafael, the generosity of all the blues in the field.
In Doha Napoli tries to win the Super Cup against Juventus who leads the league in Italy and is still in the running in the Champions League. Rafa Benitez gives confidence to Gonzalo Higuian at the center of the attack, on the flanks system Callejon and De Guzman, center Gargano and Hamsik. At four minutes sensational defensive naivety of Naples and Carlos Tevez struck home. Defense once again embarrassing. You just started the game, there's plenty of time to recover but we need a great Napoli to turn the tables.
Napoli is not down, try to do his game. The 15th after a siege lasting five minutes, Hamsik releases a shot from distance that bounces on Chiellini and Buffon surprising but the ball goes to be printed on the pole. The 25th is always Hamsik commits Buffon.
Napoli back on the field in the second half with the same charge of first. Continuous attacks but unlucky. Before Callejon alone in front of Buffon pull to the side and missed a goal made. Then from left Higuian with a lob to the 59th exceeds Buffon, but then the ball hits the post. Porta haunted. At the 67th down to the right of De Guzman, focuses on a perfect cross that Gonzalo Higuain square head behind Buffon. Deserved draw. Napoli remains under pressure, Juventus seem in trouble. The match ends in a draw. You go to extra time for the allocation of the Super Cup. First time passes without any particular emotion. The second half opens with a goal from Tevez free in the Naples area. Few minutes and Higuian spectacular pulls network response Buffon champion, goals foiled. Naples indomitable. Two minutes from the end comes the winning paw Gonzalo Higuain. It is the equalizer. Around the corner there are penalties.