2 May 2016
NAPOLI WINS WITH TWO GOALS OF HIGUAIN BEATS AND ATALANTA: SECOND PLACE THAT IS THE CHAMPIONS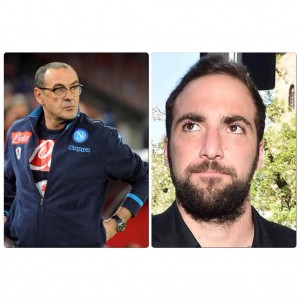 Napoli have only one result: must win against Atalanta if he wants to hold on to second place. Roma beat Genoa so you need to be right the tough team coached by Edy Reja, a former in Naples was the protagonist of two promotions. And is a roaring start to the 10 'minute leading to good work from Hamsik, which is celebrating its four hundredth match against Napoli and is rewarded by Luis Vinicio and Peppe Bruscolotti, which serves to Gonzalo Higuain who makes a masterpiece goal.
up to half an hour Napoli attacks but not on the network concludes, good game as always but not very productive. Atalanta who Sportiello, former Napoli on goal and other Neapolitan of birth as Borriello Masiello, as well as a former Cigarini, holds well.
At 34 'is Dramé to prevent the goal to Callejon that without the intervention deldifensore he would be face to face with the young and talented Sportiello. Immediately after nice air balloon Diamond but is wiped out from the area. Minutes of good football: bell'azione between Jorginho, Insigne and Hamsik with inverted half of the young Neapolitan who just wide.
In the second half the music does not change: Napoli closes Atalanta in his own half. Insigne and Higuain are seeing their numbers, but the ball does not want to join the network of opponents. At 51 'after a good control of Higuain Hamsik it gets in a shot but it is central and Sportiello para. The Atalanta goalkeeper is repeated soon after with two other actions. 56 'Allan is taking the crossbar. A continuous assault. 64 'Dries Mertens in Naples enters instead of Lorenzo Insigne.Al 77 Napoli finally breaks the delay and does so with the second goal from Gonzalo Higuain goes to 32 in the league. A truly amazing Pipita. Standing ovation for Callejon author of the seventh assist of the season, coming out, giving way to El Kaddouri.All'83 'comes Gonzalo Higuain to the applause of St. Paul who now loves him to distraction.
85 the only shot on dell'Atalanta door Freuler, becomes the lead with a deviation of Albiol. Napoli returns to the attack, continued to press until the end, Mertens wrong before Sportiello who saved this time too. Then continues into the goal on a nice shot of El Kaddouri.Finisce 2 to 1 for Napoli.