6 Dec 2017
THE NAPLES LOSES IN HOLLAND AND IS OUT OF THE CHAMPIONS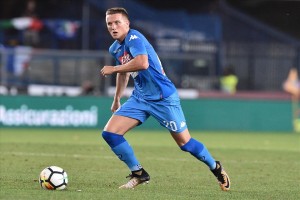 Napoli must win with Feyenoord and hope that he will do the same for Manchester City at Shackhtar Donetsk to continue the Champions League adventure. And at 1 'on the passage of Albiol is Zielinski – who replaces Insigne remained at home – to bring the blues of Sarri ahead.
Napoli attacks and on at least two occasions touches the goal with Mertens first and then with Zielinski again.
While the referee does not sanction the countless fouls of the Dutch, comes the news that the Shackhtar is winning with the City. The Feyenoord is not close to zero points and with an action that takes advantage of the naivete of the defense of Naples, Jorgensen marks the draw.
Here comes the news of the doubling of Shackhtar and Napoli … Naples is no longer: it seems to lose clarity and play. Half an hour from the end comes Allan and is replaced by Rog. Albiol suffers a bad foul from Jorgensen hints at a reaction, the Dutch apologizes but Albiol continues to touch his ankle ankle. The Azzurri however continue to try with Rog, and also continue to suffer faults that the direction of the race does not see. Al '74 after a good attacking action leaves Callejon to leave room for Ounas.
It proceeded wearily until the 90 'when Feyenoord on a corner kick beat Reina and took the lead.