3 Nov 2014
CHINA INVEST IN FOOTBALL JERSEY SPONSOR OF HUAWEI SANTOS, CLUB OF PELÈ
Huawie, the giant Chinese smartphone maker is the new sponsor of the Santos. The Brazilian club struggled to find the so-called jersey sponsors, namely the principal mark to be affixed on the shirt for the whole season, so much so that they had invented the sponsors temporary from game to game. A problem that now, in the old team of Pele, will no longer have. The telecommunications giant Huawei has decided to invest in his club, becoming just jersey sponsors.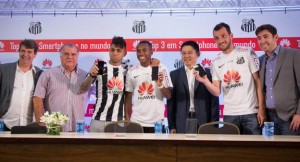 "We have long sought a union feasible. The centennial history of the club, our projects with the younger crowd, the partnership with UNICEF and our strength in social media were key to this collaboration," explained Fernando Montanha press conference, marketing manager of Santos. This is not the first time that the Chinese giant invests in the flask. Arsenal, Galatasaray, Ajax and PSG were the first club to sign a partnership with Huawei. Closely followed in 2013 by Milan.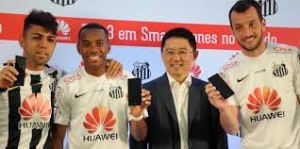 In the third quarter of 2014, the Consumer Division has experienced substantial growth in the Middle East and Africa (322%), Asia-Pacific (98%) and Latin America (51%). To meet the growing demand for smartphones, in 2014 Huawei has further intensified its efforts in emerging markets, explain the data Telefonino.net. This figure explains the specific strategies of Huawei, related to business models where football becomes a commercial vehicle. The data related to the Middle East bring out just the use made of PSG and Arsenal, the club or controlled in whole or in part by giants Arabs, to convey the Chinese brand in this particular area.