11 Jan 2015
JUVE BEAT SÃO PAULO WITH A GOOD MATCH AND THE USUAL REFEREEING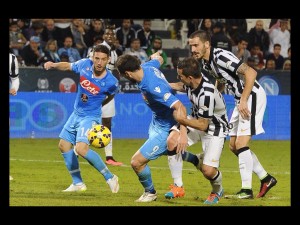 Naples is a thousand colors. Napule thousand culure. The spirit of Pino Daniele hovers on the San Paolo. Stadium creepy singing. Juventus is in the lions' dens. The band Benitez must only win to reopen the championship. First few minutes of study for the two teams. The battle in midfield. The Napoli sends a suffocating pressing in attack with Higuian and Callejon to frighten the Bianconeri.
They spend 15 minutes and the two teams are not able to find the way of the gate. Total balance in the field. The 17th largest attack action Higuain, Hamsik and De Guzman that before Buffon shoots up. At the 20th Higuain skips two Bianconeri, flies to the door and it mows Pirlo. The sprawling but forget to take out the yellow card.
The 28th prowess Pogba on a ball that comes from a rebound in the area. Biamconeri ahead, Naples a bit 'confused. But there is plenty of time to fix it. At the 42nd Caceres alone in front of Rafael you stop.
Second time with Napoli which starts immediately attack. Mertens enters, exits Hamsik. At the 18th from a corner of Mertens, Britos bags in the network of Buffon with a platter from the center of the area. It's a draw.
Mertens from brio attack. The 23rd Caceres from an offside position on a set piece struck home with a touch of dish. Goals irregular but the referee, of course, gives the network.
The 28th Napoli scored in, the referee annulled for an alleged foul by Koulibaly of Buffon.
Napoli tries to equalize, closes the Juve defense but can not shoot at goal. In 93rd Juve ended with Vidal on 3 to 1.