9 Oct 2014
MILAN GLORY MISSION CHINA. FIELD PAUL Maldini, Franco Baresi AND Andrij SHEVCHENKO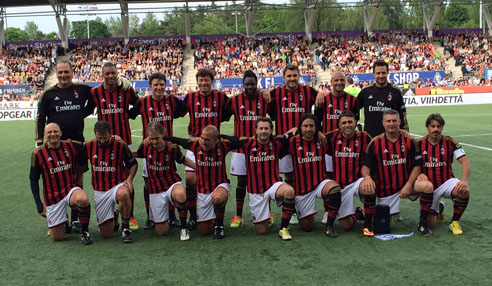 It 'started the adventure with the Chinese for Milan Glorie before landing in Shanghai and transfer to Nanijng (Nanjing) to follow, for the charity match which will be played at 19.45 (local time) on Saturday 11th October to Wutashai Nanijng Stadium.
At the pre-match press conference attended by Franco Baresi and Daniele Massaro, in the post-match intervene instead Dario Simic and Marek Jankulovski.
Here is the squad:
Goalkeepers: Sebastiano Rossi and Simone Braglia
Defenders: Paolo Maldini, Franco Baresi, Giuseppe Favalli, Dario Simic and Roberto Mussi.
Midfielders: Stefano Eranio, Marek Jankulovski, Diego Fuser, Christian Lantignotti, Angelo Carbone and Ibrahim Ba.
Forwards: Daniele Massaro, Andrij Shevchenko, Maurizio Ganz and Gianluigi Lentini.
Part of the proceeds will be donated to the Milan Foundation.