20 Sep 2017
GREAT NAPLES, SOCCER DANCES TO THE OLIMPIC. STILLING MERTENS, SIGNING ALSO KOULIBALY, CALLEJON E JORGINHO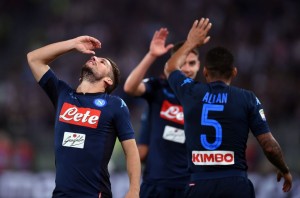 An important game is that of the Olimpico against Lazio, which will have to prove to be in the greats, in this case Naples. Immediately the hosts try to push but Napoli is attentive, but Sarri guys in the first quarter of an hour can not take over the game. They have some nice individual actions but at half an hour is Lazio who succeeds to go with De Vrij who beats Reina with a dirty ball.
At 37 'Mertens' great play for Hamsik but hits the pole. Almost at the end of the first half is still Callejon to look for the goal with a great deal but Strakosha para.
in the recapture, Napoli looks back on: insists, at some point seems to suffer but then at the 9th minute and the second time is the big, immense Koulibaly to equalize.
Two more minutes go by and Napoli goes ahead with Dries Mertens, assisting Marek Hamsik. But it is not over: 59th Mertens is the goal of the year. The goalkeeper comes out, he spins around and with a lob throws him. Pazzesco.Tre goals in five minutes.Incredible, that Naples! That Mertens! Ten minutes from the end Sarri replaces him with Milik and the whole stadium applauds him.