16 Apr 2016
A BAD NAPLES LOSES WITH THE INTER MATCH DISTORTED BY A GOAL OFFSIDE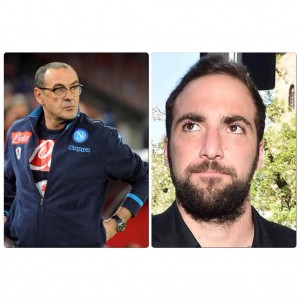 60000 Napoli at the San Siro. Inter cannot afford missteps and 4 minute should be networked with a goal by Icardi offside evident. Begins badly the game for Naples and for the referee Gianluca Rocchi from Florence who don't see the irregularity. Will be discussed during the week. The Naples protest more shameful for some arbitration that define manco is now a euphemism. The Naples goes into pressing now to fix the game. Inter's defense is careful and neat. Per minute 22 conclusion from out of Hamsik. The blow is very strong, Handanovic sees it only at the end and rejects. Spend a few minutes and is always called upon to do a big parade on Handanovic shot from outside of Allan. The 43 minute Inter doubled with Brozovic. A blow for Naples.
A few minutes after the start of the second half they enter Ghoulam and Mertens instead of Strinic and as usual does not look happy. The music remains the same: the Naples suffers from the absence of Gonzalo Higuain, Gabbiadini fails to be effective, the Defense often turns to empty and the attack is wrong too. At 60 ' save Koulibaly with Reina beaten. Immediately after yet another bad foul of Idris, even for Kondogbia a yellow card that could be pure red saw the entry decided on Mertens.
Is always the Belgian who at 63 ' launches Callejon gliding in front of the goalkeeper but can't get on the ball. Napoli is trying but it is not easy to straighten out a game with a goal in the NET 3. offside cashed We test still Callejon soon after but Handanovic saved. The referee Rocchi continues despite Mertens on land and gets fouled but the REF continues to put mistakes and not whistle.
The Blues continue to press, yellow of Rahman for Mertens. Enter El Kaddouri to Jorginho, some nice action but will not unlock the result. The last great opportunity is Callejon.
Evidently it was all already written.